Pennsic XXVIII
What is Pennsic? It is like make-believe... there are Kings and Queens, knights in shining armor, pretty ladies. People from all over the country go to Pennsylvania for 2 weeks to camp and live like it was a long time ago. Mommy said it is what's called a reinactment and that the people are in a playgroup called SCA. We stayed at a cottage nearby. I saw Daddy put on armor and fight in big battles. And I got to meet the Baronness who liked to hold me and make me laugh. A lot of people said I was cute in my little tunics. Click here if you want to know more about Pennsic or the SCA.
Mommy made our garb for us.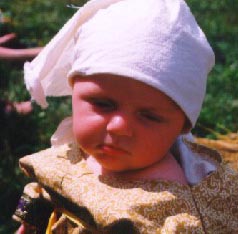 It was tiring being so cute.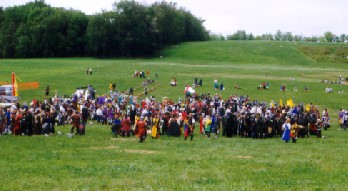 This is only some of the fighters who wear armor and fight in battles. My Daddy is out there! He is my hero.